Here's the scoop...
Single #2 For Delta Goodrem Now Confirmed!!



Delta's follow-up to the chart-storming 'Out Of The Blue' has now been confirmed! The second single to be released from Delta's new album 'Mistaken Identity' will be the title track...'Mistaken Identity'! Expect to hear it on radio from December 6.


It's been one that's kept you'll guessing for sometime now, but we can now confirm that the second single from Delta Goodrem's new album 'Mistaken Identity' will be the title track 'Mistaken Identity'! The follow-up to her #1 smash 'Out Of The Blue' and already a firm favourite among fans, 'Mistaken Identity' will be released to media nationally on Monday, December 6, with an instore date to be announced shortly.

Co-written by Delta and famed songwriter Billy Mann (who can take the credit for Pink's 'God Is A DJ' and Jessica Simpson's 'With You' among his many accolades), 'Mistaken Identity' beautifully reflects the more sophisticated, and occasionally introspective, aspect of Delta's new album - the song's poignant lyrics leaving little doubt her life has changed immensely since she penned her debut album 'Innocent Eyes':

Erase and rewind, leave that sick girl behind and fast forward, fast forward
A thousand days/
The girl I used to be has a terrrible case of mistaken identity/
And yesterday's girl is not what you see/
It's a terrible case of mistaken identity
That's not me, it's just not me

The brilliant video for 'Mistaken Identity' was shot last week in Sydney, and we can reveal that the concept for the clip is based loosely on the classic film 'The Never-Ending Story', with Delta journeying through a fantasy world, reflecting on different experiences in her life. Expect to see it on music TV before Christmas!

Delta Goodrem Has A Quickie
Delta Goodrem's 'Mistaken Identity' has debuted at number one on the Australian album chart with one of the fastest selling albums of 2004 so far.
The album sold more than 54,000 units last week.
That makes 'Mistaken Identity' the second fastest selling album of 2004, behind Shannon Noll's 'That's What I'm Talking About' which debuted on February 16 after selling 131,000 units in the first week.
Delta has knocked Robbie Williams from the top in his forth week but the Williams album still managed a healthy 29,000 sales bringing his total tally to more than 140,000 units or legitimate double platinum.
Williams has the third fastest selling album of 2004 so far 'Greatest Hits' sold 46,000 units. Norah Jones is in 4th place with first week sales of 37,200 and Kasey Chambers is 5th with 25,800 units in week one.
Although the year is coming to a close, there are other contenders who may creep into the Top 5. Next week we will be watching Eminem's 'Encore' enter the chart. U2's 'How To Dismantle An Atomic Bomb' should be big and Kylie Minogue's 'The Ultimate Kylie' also
Since the ARIA Awards, the Australian Record Industry has had a vigorous turn around in sales with the Top 6 albums this week all selling more than 10,000 units. In the week before the ARIA Awards, the number one album sold just 7,400 copies.
The Top 10 albums sold around 159,000 units last week, up 43,160 on the previous week.

Delta Goodrem To Make A Movie
Delta Goodrem will head to the big screen later this year. She has signed for a role in a new Australian flick to be called 'Hating Alison Ashley'.

Delta became a big star via the soapie Neighbours and has also had roles in 'A Country Practice', 'Hey Dad' and GP'. 'Hating Alison Ashley' will be her movie debut.

She will play the lead role. "I have been offered a quite a few roles over the past two years and whilst the timing for this movie is not ideal, I really felt a strong desire to accept the part of Alison Ashley" she says.

The movie will be produced by John Brosek (Wog Boy) and Elizabeth Howatt-Jackman and is based on the teenager's novel of the same name. "I adore the book and have an enormous respect for both John and Elizabeth, both of who I am very much looking forward to working with" Delta says.

Accepting a movie role has come as a surprise to many who expected the young Australian singer to concentrate solo on breaking in the USA this year. Her album 'Innocent Eyes' is yet to be released in the USA despite having sold more than one million copies in Australia.


--------------------------------------------------------------------------------------
Delta Scores APRA Nominations



Australian recording artist Delta Goodrem was today nominated for 4 APRA (Australasian Performing Rights Association) Awards. The awards, which are voted by 13,000 industry voters were announced today at Arena Restaurant in Fox Studios.

Delta's nominations include:

- Song Of The Year for "Innocent Eyes"
- Most Performed Australian Song for "Born To Try"
- Most Performed Australian Song for "Innocent Eyes"
- Most Performed Foreign Work for "Lost Without You" (Bridget Benenate, Matthew Gerrard)

On hearing the news, Delta commented "this is unbelievable and a wonderful honour to be nominated for Song Of The Year. Innocent Eyes is very dear to my heart and I'm so happy for my friend and co-writer of the song, Vince Pizzinga".

---------------------------------------------------------------

Showcase at South By Southwest

Delta Goodrem is one of the first Australian acts to announce a showcase performance at South by Southwest in Texas in 2005.

Although a household name in Australia and also a hit act in the U.K., Delta is still unknown in the USA. "This is a great media profile for her" Australia's SxSW co-ordinator Phil Tripp tells Undercover News. "For her, it gives her the chance to perform in front of an unknowing audience".

Tripp also today announced the first 20 acts from Australia and New Zealand heading to SxSW. From Australia they are Avalanches, Sarah Blasko, Bumblebeez 81, John Butler Trio, Cut Copy, Dan Kelly & the Alpha Males Ben Lee, Little Birdy, Machine Translations, Neon,Old Man River, Rocket Science, Xavier Rudd, Starky, Holly Throsby, Wolfmother as well as Delta Goodrem.

From New Zealand, The Coolies, The Have and The Mint Chicks will head to Texas for the event.

South by Southwest will be held March 16-20 in Austin, Texas.

--------------------------------------------------------------------------------------------------------------

Delta Goodrem Hits The Million Mark With "Innocent Eyes"!

Sony Music congratulates Delta Goodrem for achieving an incredible record one million sales for her debut album, "Innocent Eyes". With a #1 album and five #1 singles, Delta has now made history as one of Australia's most successful recording artists!

Pop icon Delta Goodrem has made music history with her debut album "Innocent Eyes" achieving more than one million sales in Australia, undisputedly confirming her status as one of the most important recording artists ever in this country. With five record breaking #1 hits, the second longest running album ever at #1 in Australian chart history and over 175,000 DVD sales, Delta's success in 12 months as a local artist has now surpassed that of most international artists in this country.

"The success of Delta has been a milestone not only in our industry, but is now firmly part of Australian contemporary culture. She has evolved into an icon with her refreshing attitude, decency and incredible music. The public support and love for Delta has been fantastic and I know this has been a great inspiration to her," said Denis Handlin, CEO of Sony Music Australia.

Delta's success has not only been limited to Australia though. A triple-platinum success in the UK, Ireland and New Zealand, "Innocent Eyes" has been released in 22 countries with global sales of 2.2 million albums and is currently a top 20 hit in Germany and climbing.

-------------------------------------------------------------
Delta Goodrem Returns To TV and CD

Delta Goodrem will follow-up her record breaking debut album with a song co-written with Robbie Williams' former partner Guy Chambers.

Chambers co-wrote and produced 'Out of the Blue' with Goodrem earlier this year in London The single will be released in October but will be heard on radio later this month. The album will also feature a duet with ex-Westlife star Brian McFadden.

Meanwhile, her Neighbors character Nina returns to the small screen tonight. As you recall, Nina left Ramsey Street to pursue a Bollywood career and as it turns out has become very successful.

Her return to Ramsey Street will be short-lived. She will be out of the show again after the Wednesday September 15 episode but not necessarily for good. Network TEN will leave the departure open for another comeback at some stage down the track if she chooses. When she departs on September 15 the character will be off to LA to pursue a Hollywood career.
Delta Goodrem's New Single
'Out Of The Blue' Premieres Today

Delta Goodrem's brand new single 'Out Of The Blue' premiered at 7.45am today on radio across the nation, and has been burning up the airwaves since!! Listen to it online now and hear it on your mobile - only on 3!!

Delta's brand new single 'Out Of The Blue' hit radio for the first time at 7.45am today and overwhelming praise for the stunning ballad has been flooding in ever since from both fans and the industry alike!

'Out Of The Blue', which hits stores on Sunday, October 10 was co-written by Delta and Guy Chambers (Robbie Williams, Jewel) and recorded earlier this year. Best news of all is that it's the first taste you'll get of Delta's new, as-yet-untitled studio album, due out later this year.

Delta, who is currently in the US finalising tracks for the album, has described the song as "being about times when someone comes into your life unexpectedly, and what a positive effect that can have on you".

Hear it on your mobile - only on 3
Listen to it on RealPlayer - right here

www.deltagoodrem.com.au

'Out Of The Blue' in stores Sunday, October 10
---------------------------------------------------------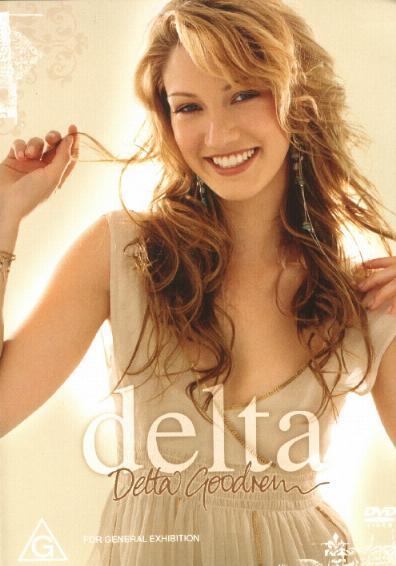 Delta

Delta's first ever full length DVD includes over 2 hours of exclusive footage. See all her videos, including 'I Don't Care' and the never before seen video of 'A Year Ago Today'. Go behind the scenes with Delta at her video and photo shoots and be on the road with her in the UK and Europe. Also featured are great live performances, loads of photos, and heaps more extras! 'Delta' is the must own DVD of the year.

Scene selection:

- Live
V HQ, London Showcase, Bali Appeal, Ch V Music Bus, Celebrate Xmas concert

- Clips
Born To Try, Lost Without You, Innocent Eyes, Not Me Not I, I Don't Care, A Year Ago Today

- Behind The scenes
At video clips, photo shoots, London / Euro promo

- Growing up
Early performances, skiing, playing basketball

- Extras
EPK, Out Takes, Photo Gallery

------------------------------------------------------------------------------------
Delta Goodrem Taps Robbie Williams Songwriter
Guy Chambers, the mastermind behind all of Robbie Williams' solo albums, has been in Los Angeles writing new music for Delta Goodrem.
Goodrem has recruited a group of top shelf writers in LA including Glen Ballard (Alanis Morissette, Aerosmith) and Billy Mann (Nick Lachey, Vitamin C).
Goodrem's contract with manager Glenn Wheatley ran out last Thursday and she is rumoured to have signed with a high profile management company in the USA for the impending release of her Innocent Eyes album.
Sony USA are pitching her for the "Celine Dion void" in the American market and plans to go with 'Born To Try' as the first single.
The new tracks will be added to the American release of 'Innocent Eyes'. The album will be released in the USA in July.

-----------------------------------------------------------------------
Delta's secret songs surface
A MILLION-dollar bidding war is looming over a secret album by Delta
Goodrem.
Goodrem recorded the album, Delta with Collingwood-based producers
Trevor Carter and Paul Higgins, from June 1999 to September 2000. But
it was shelved when Goodrem signed a label deal with Sony Music.
To date, Goodrem has distanced herself from Delta.
But this week Higgins will ask Goodrem to release the album, which
was buried in favour of her breakthrough million-seller Innocent
Eyes.
Higgins will then put Delta on the market and ask for record company
bids.
"When it is shopped around, every label would want a piece of it,"
Higgins said. "Then it is fair to assume if we released it, it would
be very successful. It would sell."
Industry experts predict bidding for the album would top $1 million.
"It'll top that easily," one record company boss said.
"Look at the numbers Innocent Eyes did, then look at the egos in this
business who want a Delta record in their catalogue.
"At the end of the day, there will be a fierce bidding war."
Goodrem was a development artist, with a two-album deal, contracted
to Higgins and Carter's label, Empire, when she recorded Delta.
Goodrem was then an ambitious 15-year-old keen to emulate the pop
sound of the Spice Girls, Britney Spears and Mandy Moore. According
to the Empire deal, the Delta album is co-owned by Higgins, Carter,
Goodrem and her parents, Lea and Dennis.
Goodrem wrote two songs on Delta: a power ballad, Love, and light
rocker Just Blame Me. She filmed a video for a ballad, Say. Carter
wrote 11 tracks.
"Technically, this record can be released and it cannot be stopped by
Sony," Higgins said.
"Obviously, we can't act alone, but we don't think there is any good
reason not to release it.
"It's a great album and it doesn't say bad things about Delta.
"The point is, this record was always meant to be released. The whole
purpose was to record a finished album that would see the light of
day."
Sony Music is aware of Delta. Those recordings were partly
responsible for Goodrem being noticed and signed to the company.
Higgins said Sony shortlisted five tracks to be used on Innocent
Eyes, but then decided to use other songwriters and producers.
"We didn't get a look in ever again. It was the classic case of a
record company reinventing the artist, going back to the drawing
board and throwing out all the groundwork that had been done," said
Higgins, who has approached Sony to release Delta. Sony has said he
should discuss the matter with Lea Goodrem.
That stance confuses Higgins and Carter. Is Delta the album Goodrem
and Sony want nobody to hear?
"I would hope not. Then, she was very proud of it. It showed off her
determination, ability and talent from a young age," Carter said.
Higgins added: "It needs to be appraised and appreciated for what it
is. These were Delta's early years. Now, she might have political
reasons, or reasons to do with her future career, that may sway her
attitude to this album. She may see it as something from her past and
not relevant now.
"But there is nothing to ashamed of. It deserves to be heard."

Princess who lived her dream
ONCE upon a time, there was an aspiring pop princess called Delta
Goodrem. Unlike other pop wannabes, her dreams were backed by talent,
ability, charisma, energy and drive.
Many believe Goodrem's fairytale began with her million-selling
Innocent Eyes album.
But it started with Delta, 13 tracks recorded at the age of 15, then
shelved after signing a major label deal.
Delta puts the Goodrem phenomenon in perspective. It captures,
perfectly, the first steps of a future star.
Producer-songwriter Trevor Carter reveals 11 effervescent, catchy pop
flavours. She handles them like a seasoned pro: Britney-sonics on
What Kind Of Girl and an instant power ballad with Promise. There's a
defiant vibe on Just Blame Me and mature pop with slow, low beats on
Love. On The Flame and Spirit, Goodrem is in patriot mode. This album
shows the promise Goodrem fulfilled with Innocent Eyes, and is still
to do in the future.